Alright, so the Modern Family goes to DisneyLand was cute. Not great IMO, but cute. However, they did pay homage to some great Disney traditions both big and small.
Poncho on Splash Mountain - check
Giant Turkey Leg - check
Reference to fat people on scooters - check
Blisters on your feet - double check
Popcorn - check (but I don't think she was really eating any of it)
Giant pickle - Wait... what?
Yes, there was a giant pickle being consumed which made me grab the IPad and google "giant pickles at Disney". How had I never noticed these being sold around the parks before? Turns out that they are pretty well known at DisneyLand, but less prominent at WDW.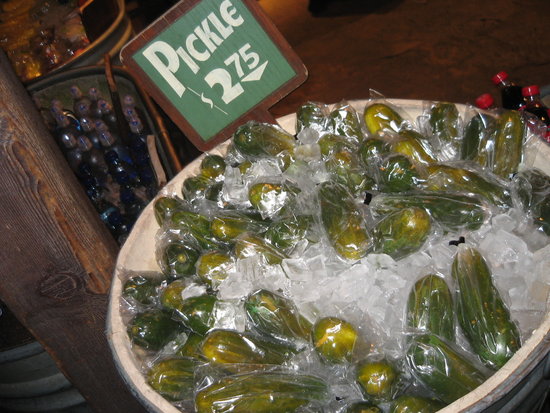 My snack idea of heaven
In any event, I then had to change my search term to "giant pickles at Disney World" (it's not rocket-science friends). The results were slightly more ambiguous but I did find a message board that provided some insight.
Specifically:
We've had pickles at the Hall of Preseidents in MK, across from the Beauty/Beast Theatre in DHS, and at the Fruit Stand near the entrance to Rafiki Planet in AK... we have not found pickles in Epcot, but that doesn't mean they're not there! LOL!
To all Walt Disney World travelers and pickle lovers, you are welcome.
~Davina