Oh. My. God.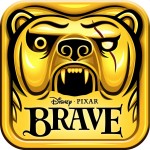 Temple Run
, the game that has made me want to throw my phone across the room and resulted in many a moments of wishing the entire world could vanish so I could just FOCUS on making the tight corners and sliding under giant trees, is getting a Disney Pixar make-over.
On June 14th you'll be able to download Temple Run Brave, (iOS and Android versions) for a mere $.99
In this new twist, instead of running to bongo music dressed like Indiana Jones, you will play Merida, the main character from Brave with your red hair whipping as you collect your coins and maneuver through Scottish obstacles. All the while running from a mean giant bear (not monkeys) named Mordu.
Sound awesome? I agree.
Check out the trailer for the game below.
Happy gaming!
~Davina